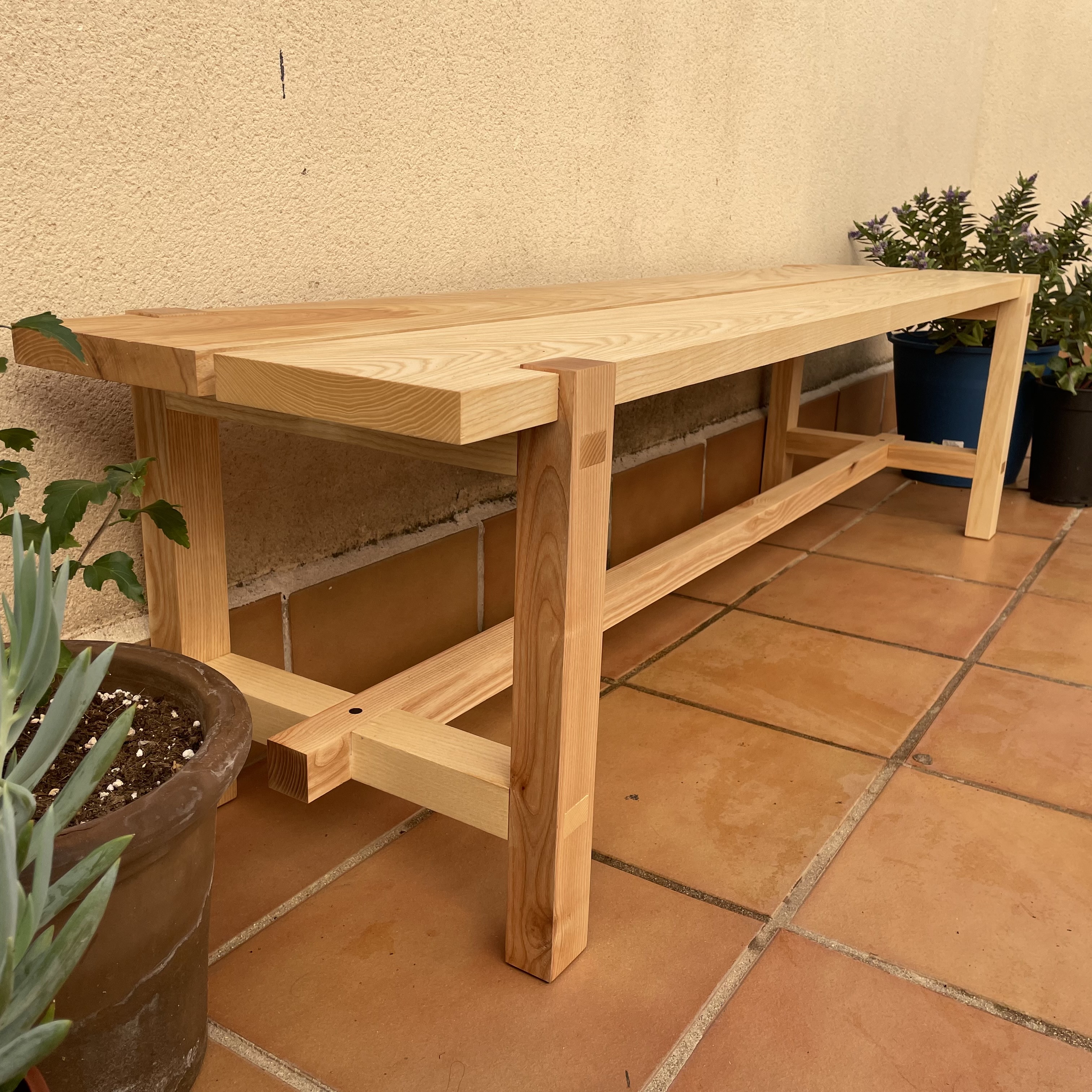 Join us for this one day course where we will build this elegant bench. Our one day courses are a really great way to try out woodworking if you've never done it before and also result in you taking home a beautiful piece that you can use inside or outside.
Course schedule:
10:00 Arrival and coffee - no one enjoys starting the day without a strong cup of coffee
10:10 Introduction of the course, the teacher and all students
10:30 Wood preparation
12:30 More coffee
14:00 Lunch - our treat!
15:00 Joinery
17:00 Application of wood finish
18:00 All done!
During this course you will the following things:
Wood Preparation using cepilladora and regruesadora
The art of wood selection
Wood dimensioning using the escuadradora
Joinery with a fresadora
Joinery with a formon
Making your own wooden dowels
Correct technique for gluing wood
Sanding
How to apply an oil finish
Normally we build these benches using european Ash wood but on occasions when this wood is in short supply students might use a wood like Iroko, Beech or something similar. If you have a specific wood you would like to use please let us know at least a week in advance and be aware this may involve additional cost.
The bench is desmontable so at the end of the day if you wish you can reduce it to pieces and then reassemble is at home. All of our one day course are fast paced and lots of fun and most importantly you will leave with the satisfaction of knowing that you started with day with a raw piece of wood and transformed into into something beautiful and functional in just a single day.
We hope you will join us and look forward to seeing you sitting on your finished bench with a big smile on your face.
The cost of the course is 190€ and includes all materials and food for the day. Students should come wearing clothes they do not mind getting dirty and that are not loose fitting. Safety equipment will be provided.