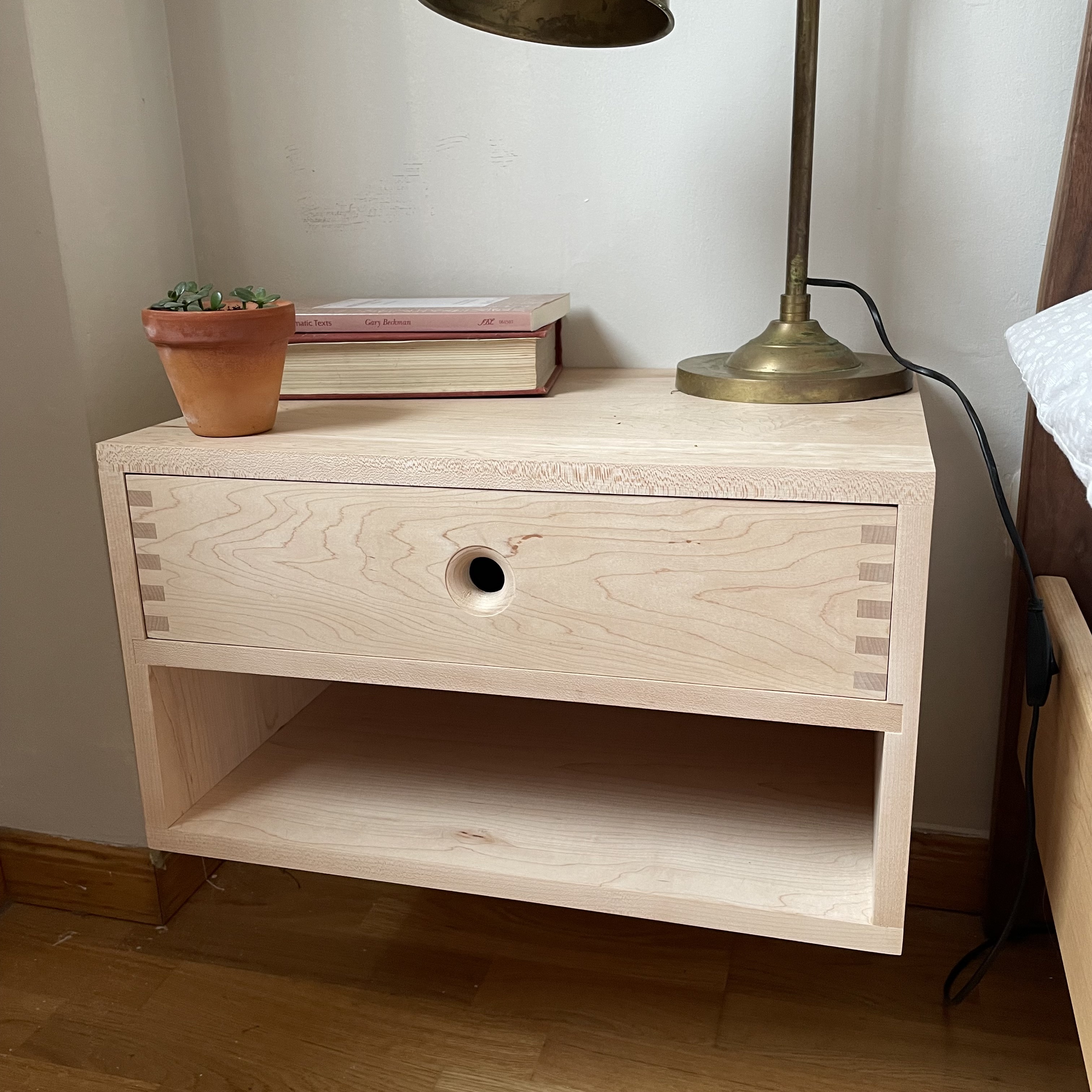 ES:
Vente a construir esta preciosa mesita de noche en madera de arce.
En este curso aprenderás a:
Cepillar y regruesar la madera
Encolar piezas para formar tablones anchos
Ensamblar cajones con ensambles de dedos
Montar el mueble usando el Festool Domino
Esta clase es una buena oportunidad para acercarse al mundo de la ebanistería, que te dejará con una mesita de noche hecha y lista para montar en casa presumiendo con amigos y familiares! La mesita está hecha en arce, una madera dura, resistente y que tiene un color clarito que se adapta bien a muchos estilos.
La medidas de la mesa son:
45cm ancho, 30cm fondo and 28cm largo. Ten en cuenta que será montada y atornillada a la pared, como se ve en la imagen.
La clase empieza a las 10:00h con un buen café y una introducción sobre lo que realizareis a lo largo del día. A las 14:00h nos sentaremos a comer juntos. El curso terminará sobre las 18:00h, a veces si hay errores o problemas, se alarga un poco.
La clase es de un máximo de 6 alumnos y un mínimo de 3.
. . . . . . .
EN:
Come and join us while we build this beautiful Maple bedside table. During this class you will learn how to
Plane and joint wood
Glue piece to make wide panels
Joint the drawers using box joints
Joint the cabinet using the Festool Domino
Mount the table using French cleats
This class is a great opportunity to try your hand at woodworking and you will leave with a finish table that you can mount at home and show off to your friends and family. The table is made from Maple which is a very hard, durable wood with a light colour and exceptional grain.
The measurements of the table are 45cm wide, 30cm deep and 28cm tall. It will be mounted with screws to your wall so you need to keep this in mind!
The course starts at 10AM with a strong cup of coffee and a chat about what you are going to learn and how to are going to put everything together.
At 2PM we sit down for a nice lunch, normally Chinese food! And then at 6 we will be finished.
Sometimes if errors have been made the course might last a little longer. There are a maximum of 6 students in our class and a minimum of 3.